Home Atlas
Feminist Perspectives on Post-war Housing
The research project, exhibition and publication
Home Atlas: Feminist Perspectives on Post-war Housing
provides an insight into the history of post-war housing policies, and illustrates the influence of feminist design ideas, projects and writings on housing practice during the seventies and eighties. The project forms a critique on housing programmes focussed on single-family life, and identifies key concepts that today still influence the design of the dwelling, such as the public-private divide, gender identity and sexual citizenship. In addition, the book proposes feminist design principles as a guideline to differentiate, transform and rethink post-war architecture. The publication and exhibition is the result of a two year research funded by Creative Industries Fund NL.
Exhibition publication (Arcam Amsterdam, June 2023)
Funded research & design project 10.2021-06.2023
Creative Industries Fund NL / Stimuleringsfonds Creatieve Industry (l
ink
to website)
Reclaimed Amsterdam 2040
Spatial Protocols for Cooperative Construction
The project
Reclaimed Amsterdam 2040: Spatial Protocols for Cooperative Construction
provides a historical and typological analysis of cooperative housing projects in Amsterdam (1880-1930) and argues to challenge the systems and instruments that currently give shape to cooperative projects. Recent attempts by the Municipality of Amsterdam to stimulate cooperative housing has led to new design questions considering the implementation, design and governance of affordable housing (programme of requirements, return of societal capital, performance agreements, responsibilities).
This project argues to redesign existing housing protocols to enable new alliances between municipalities, housing corporations and cooperatives focussed on implementing collaborative design tools, agency and decision making. Community-led housing as an inquiry for city planning not only forms an opportunity to improve the quality of affordable housing; it provides a possibility to redesign the social networks and performative ideas inscribed within existing dwelling layouts.
Research project 10.2019 -10.2021
Selected for honourable mention Prix de Rome 2022 Healing Sites (10/2022); Selected from the
Open Call for Papers
by Arcam Amsterdam (11/2022).
Housing and Care Cooperatives in the Netherlands
Spatial Diagrams of Cluster Living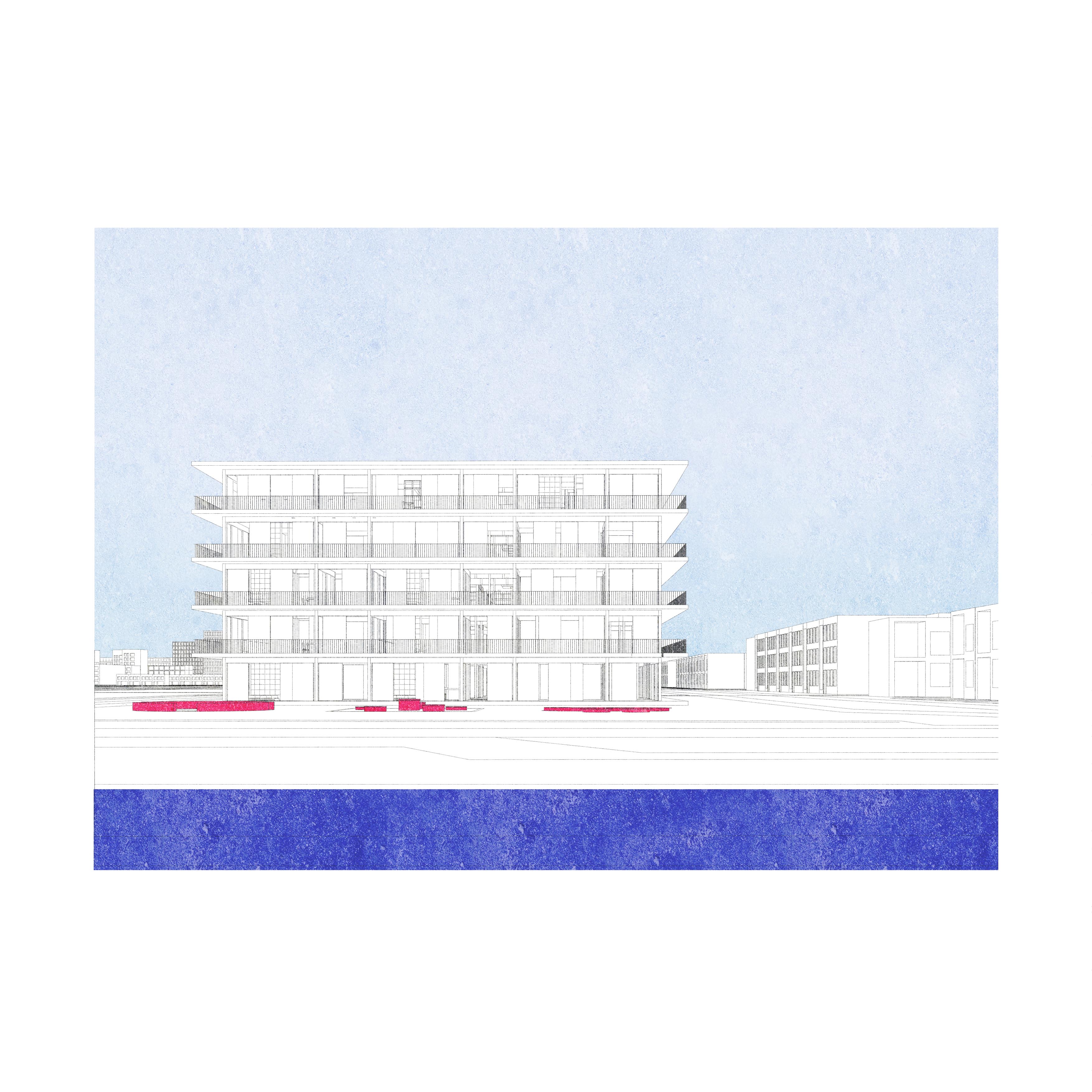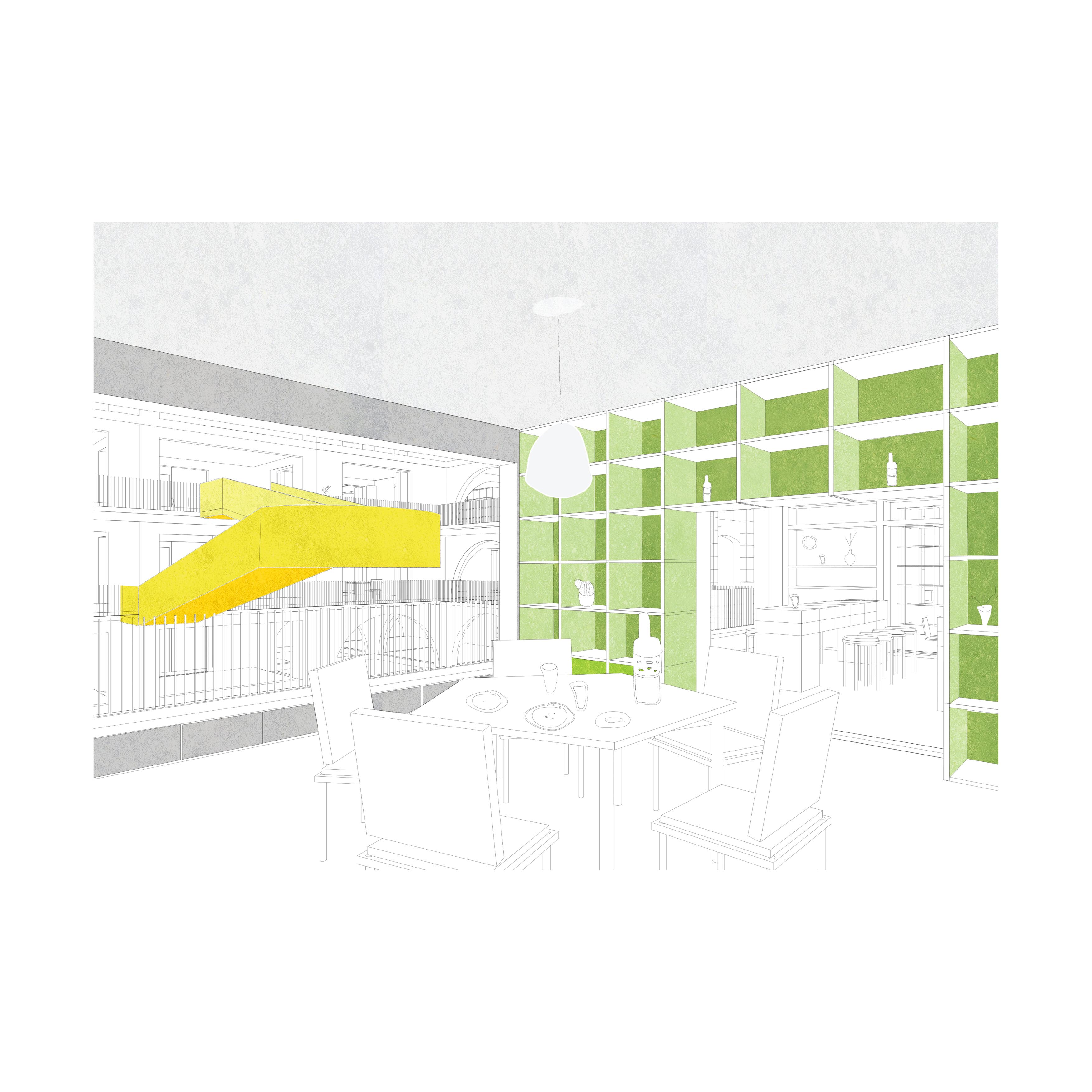 The project
Housing and Care Cooperatives: Spatial Diagrams of Cluster Living
investigates the typological transformation of elderly accommodation into decentralised models of
care in place
in the district. Currently, community-led networks such as Buurtzorg, District Care, and care cooperatives are emerging in the Netherlands in an attempt by the government to encourage individual agency and collectivise care responsibility.
The organisation of care in the home introduces typological questions about the design of the dwelling according to new protocols and procedures of care. How can the housing cooperative function as a framework to organise collectivised care-work within the district? This dissertation argues for an investigation into the threshold conditions of dwelling and the activities of care (clinical care, therapy, reproductive labour, social assistance) to challenge existing ideas on wellbeing and the elderly, and more importantly to design communal care rooms, equipment and infrastructure.
Dissertation 06.2018-06.2019
Studio Projective Cities (Distinction)
Taught MPhil Architectural Association London
Prof. Dr. S. Jacoby, Dr. P. Issaias, Dr. H. Khosravi and Dr. M. Campbell.
Exhibited at the Seoul Biënnale Architecture & Urbanism (09.2019-11.2019); presented at the symposium 'Housing and the City' at the University of Nottingham (20/11/2020).